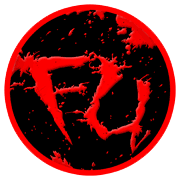 R E V F R E E I S F O R M A T U R E A U D I E N C E S O N L Y
The Comic Will SOON
be available for purchase.
Above is the COVER of Issue 1 of the RevFree Comic.
I am working on my drawing skill as well as the production bible but thankfully, the main thing - THE SCRIPT - is completed. Yes, it took me 10 years to make that script. It took long because I wanted to make THE BEST STORY EVER WRITTEN and I also had to spend much time with my TrinEvolve Studios Ltd advertising & video company so I had some way of buying food to eat. I am proud of my work for clients there & truly gave it my all, before choosing to now focus MUCH MORE on my Independent Art - especially RevFree.

I will showcase some of the Pre Production work done. As you can see below, I did my best to incorporate other artists in helping me to be objective about the design process & even now, after 4 official stages of character design, I am NOW doing the final stage.
I chose to have Artist Emmanuel Chadee do the very first stage of designs based on my explanations of the characters and a few visuals/photos I found. He did a fantastic job and focused a lot on the silhouettes of the characters which is so important. Please know, I not only incorporated these form in a huge way going forward, but I also will be 'reincorporating' for the LAST VERSION DESIGNS coming soon.
Here I refined what Emmanuel did and added color to the mix. My skill in anatomy needed improvement but I knew I could at least get a foundational form down for the designs. I wanted to capture personality so allowed for organic distortions in them. I also knew that there would be further stages of design so I could let it be loose & open for the mean time.
Here I got a talented Artist, definitely one of the best in the Caribbean, Rajen Ramkallawan to do a review of the designs & add his own ideas to improve them. Note that as always, I kept things all business so I own all rights to the characters designs via signed contract, no matter what & this clarity matched the professionalism of Rajen. His notes & redesign sketches are amazing and add a lot of 'emotional energy' (life) to the characters as well as bring out an 'iconic' image to them. These will also be revisited in the soon to come Final Designs.
In this stage, I incorporated Rajen's input & tried for a more angular, well defined design that was more realistic yet still had the iconic dynamism. Refined colors as well. More 'surface planes' to the characters. A big part of this stage was working out the bodies of the characters- moreso than the face.
Character Design STAGE 5 - FINAL.
The Final Stage of ALL character designs is being done now.
Maybe you will have to get the comic to see them :)
All characters designs are owned by Bryan Dass.




Copyright 2022.